WHAT'S NEW?
Hours:
Mon. - Thu. - 9 am - 8 pm
Fri. - 9 am - 6 pm
Sat. - 10 am - 2 pm
Sun. - 1 pm - 4 pm
CLOSED EASTER SUNDAY, APRIL 1.
FRIENDS OF THE MARY L. COOK LIBRARY BOOK SALE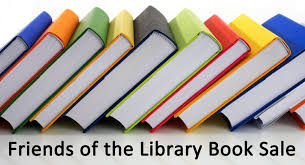 Members Only Preview Night ($5/individual or $10/family – at the door) Thursday, Apr. 12, 5 pm - 8 pm
*Public Book Sale* Friday, Apr. 13, 9 am - 5 pm
Saturday, Apr.14, 10 am - 2 pm
*Dollar Bag Sale* Sunday, Apr. 15, 1 pm - 4 pm
*On your Honor Sale* Monday, Apr. 16, 9 am - 8 pm
& Tuesday, Apr. 17, 9 am - 5 pm
*Donations of books, magazines, CDs, DVDs, etc. accepted through Thursday, Apr. 12 at 4 pm.
*We cannot accept textbooks, VHS tapes, Reader's Digest books, or encyclopedias.
If you have an hour or two to help work the actual sale, please sign up today. Call or stop in to ask how you can help. Thanks!
RECOMMENDED READS
ADULT FICTION:
The Bags of Tricks Affair - B. Pronzini
The Flicker of Old Dreams - S. Henderson
The Flight Attendant - C. Bohjalian
The Great Alone - K. Hannah
I Found You - L. Jewel
The Paris Key - J. Blackwell
The Policeman's Daughter - T. Boyce
The Tuscan Child - R. Bowen
ADULT NONFICTION:
China's Great Wall of Debt - D. McMahon
Doing Harm: The Truth About How Bad Medicine and Lazy Science Leave Women Dismissed, Misdiagnosed, and Sick - M. Dusenbery
Enough As She Is: How to Help Girls Move Beyond Impossible Standards of Success to Live Healthy, Happy, and Fulfilling Lives - R. Simmons
WATCH FOR THESE NEW BOOKS OUT THIS MONTH:
4/3:
All The Beautiful Lies - P. Swanson
Lawn Boy - J. Evison
The Overstory -R. Powers
Varina - C. Frazier
We Own the Sky - L. Allnut
Why Kill the Innocent - C. Harris
4/10:
Unbury Carol - J. Malerman
4/17:
Our Little Secret - R. Nay
4/24:
You Think It, I'll Say It: Stories - C. Sittenfield
CHILDREN'S PROGRAMS
Contact Miss Kathy & Miss Sheila @ 513-897-4826.
DROP-IN STORYTIMES
Aimed at 3 yrs. - 6 yrs., but all ages accepted. Drop in Monday evenings 6:15 - 6:35 pm or drop in Tuesday mornings 10:00 - 10:20 am. Join us in the children's room for a few stories, fingerplays, and laughs.
BABY BOOKWORMS
Baby Storytime for children from birth to 24 months & their parent or caregiver. Wednesdays 10:30 – 11:00 am. Enjoy great books for babies, learn fun songs and rhymes, and meet other families in your neighborhood. Parents/caregivers are expected to stay with children during all storytime sessions. No registration required. If you have questions, please call Kathy Daniels. *Our last session will be Apr. 25. We will resume these sessions in the fall.
TODDLER LAPTIMES
For 2 year olds and their caregivers. Tuesdays 6:45 - 7:10 pm until Apr. 10. Required registration began Feb. 19. Limit - 12 toddlers & 12 caregivers.
PRESCHOOL STORYTIMES
For 3 - 5 year olds (including kindergartners) Thursdays 10:30 - 11:15 am or 6:45 - 7:30 pm. Come every Thursday for stories, games, songs, and crafts. *Please note our last storytime until fall will be held Apr. 26.
STORYTIME SUPERSTARS
Come to storytime at the Mary L. Cook Public Library and get a stamp. When you have 10 stamps on your Storytime Superstar card you will earn a free book.
PRESCHOOLERS THROUGH 5TH GRADERS
"Spring into Reading" during the month of April. If your child checks out 5 books, we will give them a chance to win a great spring prize.
EARLY APRIL LEGO FUN (GRADES 1 – 5)
Family Building Day: bring the family (age 5 and up) on Saturday, Apr. 7 from 10:30 – 11:15 am. We supply Legos of all sizes and a theme. Registration began Mar. 12. Program is limited to 20.
CHAPTERS BOOK CLUB
Grades 1 & 2 will read one short chapter book a month, and then meet to discuss the book, the author, and do activities associated with the book. The Chapters Book Club will meet on Tuesday, Apr. 10 from 4:00 – 4:45 pm. Registration required. This group is presently full.
MUFFINS WITH MOM
Saturday, Apr. 21, 10:00 – 11:00 am. Kids, bring Mom or that special person in your life to the library for a morning of fun. We will provide muffins, drinks, and fun activities for all.
*This is a come-and-go program, and there is no need to be there the full hour. So, stop in for a few minutes for a snack and complete an activity or two. Registration is required for this program beginning Apr. 2. You may register for this program on our Facebook page or by calling the library (513-897-4826).
RAPID READERS & WRITERS
Grades 3-5 will meet Tuesday, Apr. 24 from 4:00 – 5:00 pm. Please join us as we discuss books, play games, try out creative writing, and enjoy a light snack. This group is full.
LOOK WHO'S READING
Grade K will meet Tuesday, Apr. 24 from 6:00 – 6:30 pm. The group will engage in a variety of fun learning activities featuring phonics, writing letters and words, and other skills that promote a strong literacy foundation.
LEGO SIMPLE MACHINES WORKSHOP
For ages 5 - 8 yrs. on Tuesday, Apr. 24 from 6:45 - 7:45 pm.
Explore simple machines with us. We will be using the kit that our youngest Lego League team used this past season. Required registration is limited and begins Apr. 9. You may register by calling the library (513-897-4826) or through our Facebook page.
CALLING K - 4TH GRADE AND PARENTS to join us in exploring coding kits. Wednesday, Apr. 25 from 6:30 - 7:15 pm. We will have available to test: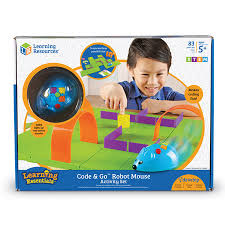 Code and Go Robotic Mouse - Explore and experiment with the programmable robot mouse. Build a maze and program the mouse to find the cheese.
Little Bits - Experiment with the small circuit boards that snap together with magnets.
*We will also have 3-D pens to experiment with.
Come test out these exciting new coding kits.
Registration is required for this program and begins Apr. 9. Register by calling the library (513-897-4826) or through our Facebook page.
SENSORY STORYTIME
Friday, Apr. 27 from 6:00 – 6:45 pm.
Sensory storytime is designed to engage kids through movement, music, stories, and sensory activity play. This is ideal for children with autism spectrum disorders, sensory integration challenge, or children who have trouble sitting still.
The program incorporates:
• Visual Schedule Board
• Books Read Aloud & Demonstrated Interactively with Flannel Boards
• Sensory Opportunities - Bubbles, Songs, Movement
Registration is required for this event. Please call 513-897-4826 to register. The library is closed to the public during this event. Parents and siblings welcome. Questions? Please contact Miss Kathy at danielka@marylcook.com.
LATE APRIL LEGO FUN FOR GRADE 1 - 5
Choose one day to join us, Family Building Day Saturday, Apr. 28 from 10:30 – 11:15 am, bring the family (ages 5 & up) or Monday, Apr. 30 from 6:00 – 6:45 pm. We supply Legos of all sizes and a theme. You supply your imagination. Registration is required and begins Apr. 16. You may call or register through our Facebook page.
IRON CHEF FOR GRADES 3-6
Tuesday, May 1, 6:30 - 7:30 pm.
Do you have what it takes to earn the title of Mary L. Cook Iron Chef? Come find out. Registration is required and limited to 20. Sign up at the library or through our Facebook page beginning April 16. *Please identify any food allergies when registering for this program. ?'s regarding this program - contact Miss Kathy 513-897-4826.
PINTEREST PARTY FOR PRESCHOOLERS - GRADE 5 & CAREGIVERS
You are invited to a Pinterest Party! Friday, May 11 from 4:00 to 5:00 pm. Join us as we create some of our favorite spring craft pins. Sign up is required and will begin April 23. You may register by calling the library or through our Facebook page.
1,000 BOOKS BEFORE KINDERGARTEN
This fun and exciting reading program is for children ages 0-5 years, developed to increase awareness of the importance of reading to very young children, as well as encouraging parents to embrace their role as their child's first teacher. It encourages families to read at least 1,000 books to their preschooler, birth to age 5, before they enter school. Families can sign up today at the Mary L. Cook Public Library. Each time the goal of recording 100 books is reached, children bring their folder to library to receive a free book and pick up more library books. The goal of this project is to help kids enter school ready to learn. Reading is one of the most important things you can do to ensure your child's success when they begin school.
LIBRARIES ROCK!
Summer Reading Program is coming. Reading and Registration will begin Wednesday, May 30. Reading programs for all ages. Watch for more details early May.
ADULT PROGRAMS
WATERCOLOR CLASS
The watercolor class has been cancelled for Monday, Apr. 2. On Apr. 9 and Apr. 16, the class will be held at Quaker Heights due to preparation for our book sale. Class will resume at the library on Monday, Apr. 23 and 30 at 9 am.
OPEN DRAWING STUDIO
Mary Sroka-Calvert's drawing classes will have a chance to meet for an open studio session on Monday, Apr. 2 at 6 pm. No formal instruction will be conducted.
ADULT BOOK CLUB
The adult book club meets every other Tuesday at 1 pm. The book for Apr. 3 is Murder on a Girls' Night Out by A. George. The book for Apr. 17 will be An Abundance of Katherines by J. Green.
BUCKEYE TRAIL SOLO HIKER
Come hear the experiences of Andy Niekamp, the first solo thru-hiker of Ohio's Buckeye Trail on Wednesday, Apr. 4 at 6:30 pm. Andy is an experienced Appalachian Trail hiker who turned his attention to hiking his home state of Ohio. The Buckeye Trail loops around the perimeter of the state for 1, 444 miles. Andy's book, Captain Blue and the Blue Blazes, will be available for purchase and signing. Check out Andy's website at buckeyetrailhiker.com.
H.E.A.L. SERIES
Jocelyn Metzger from Sunshine Therapeutics will present the next session in Healthy Everyday Activities for Living (H.E.A.L.) on Apr. 10 at 2 pm. This session's focus is Headaches/Migraine Pain. Each class will include a stretch, an exercise, a postural correction, and a stress reliever tip. Wear comfortable clothing. Limited to 20 - sign up at the library.
ROOTFINDERS
Meet Saturday, Apr. 14 at 10 am. Linda Swartzel will present a program.
CARRIAGE HILL CRAFT
Residents of Carriage Hill, join us on Friday, Apr. 20 at 2 pm to make a Mason jar light. This program is free and no experience is necessary.
ADULT MASON JAR LIGHT
Adults ages 16 and up may sign up for to make a Mason jar light on Friday, Apr. 20 at 6:30 pm. Registration is required and began Mar. 26. The program is free and no experience is necessary.
FINANCIAL SEMINAR
From 1 - 4 pm on Thursday, Apr. 26 Beacon Hill Financial will be here to discuss financial planning for seniors. The session is open to the public.
KNITTERS
Meet each Thursday at 5 pm.
TEEN PROGRAMS
TEEN CAFE (Gr. 6 & up)
Each Wednesday after school form 3:00 - 4:00 pm. Each week we will provide snacks, drinks, and something fun to do. Come join the fun and bring a friend! ?s - call Sheila @ 513-897-4826. Our last session will be Apr. 25.
TEENS, YOU COULD BE A BOOK BUDDY THIS SUMMER!
If you are in grades 7-12 and like working with children, we have the program for you! "Book Buddies" pairs older students with younger children for a fantastic reading experience. Be a Book Buddy this Summer. You will help children select books, become a reading mentor, and encourage children to love books and reading. You will earn community service hours. These "Book Buddy" sessions will be scheduled to meet on Monday evenings 6:45 – 7:15 pm on June 4 - June 25. All teens are asked to arrive at 6:30 pm to prepare for sessions. If you are interested in becoming a Book Buddy, please contact Kathy Daniels, danielka@marylcook.com, for an application. No more than 15 students will become Book Buddies. **If you have never served as a Book Buddy, you will need to attend a mandatory training session May 17, 2018 3:00- 3:30 pm at the Mary L. Cook Public Library.